River Alness System
---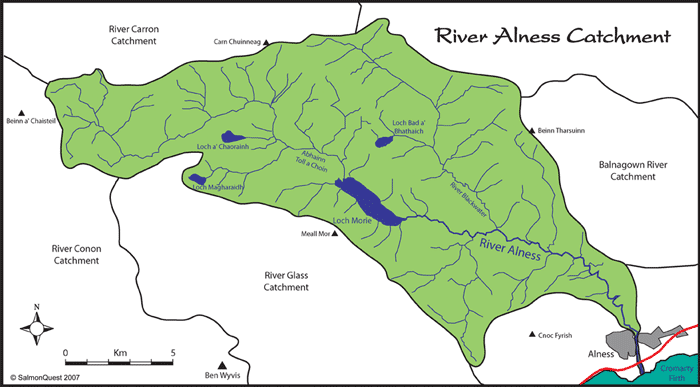 River Alness Catchment Area - click for larger map
The River Alness (also known as the Averon) has a catchment area of 205 square kilometres, rising in the high hills of the Kildermorie deer forest in Easter Ross and flowing for approximately 24 miles (38 km) to the tidal waters of the Cromarty Firth. From its source the river flows for 11 miles (17 km) gathering water from numerous burns before reaching Loch Morie.
Loch Morie
The outlet from Loch Morie is partially controlled by a small dam with a fish pass which provides compensation flow through periods of low rainfall. From the loch the River Alness has a course of another 11 miles (18 km) to its mouth on the Cromarty Firth below the town of Alness. It has one of the steepest descents (over 600 ft) of any river of comparable length in Scotland, although there is no significant waterfall.
Through the upper beats, the river flows through open moorland with conifer plantation and birch woodland, first over gravel beds where feeder streams provide significant spawning areas, before descending more rapidly through a steeper section with more clearly defined pools.
Approximately 3 miles (5 km) downstream from the loch, the main river is joined on the north bank by the River Rusdale (Blackwater) tributary. The river then flows through woodland and permanent grassland. For the last 4 miles or so (6 km) the river cuts through old red sandstone and conglomerates, providing dramatic holding pools for salmon, before reaching the town of Alness.
Aerial View of the Cromarty Firth, with the River Alness entering it in the foreground,
and Invergordon, the Sutors of Cromarty and the Moray Firth in the background.
Below the town of Alness and less than ½ mile from the firth there is a small weir (to extract water for the Dalmore Distillery) which has a fish pass, where salmon can be watched ascending the river when migrating.
NB: for best quality, click on the YouTube logo on the embedded viewer above, select the 720p or 1080p HD setting and view in full screen.