Alness Angling Club Fishings
---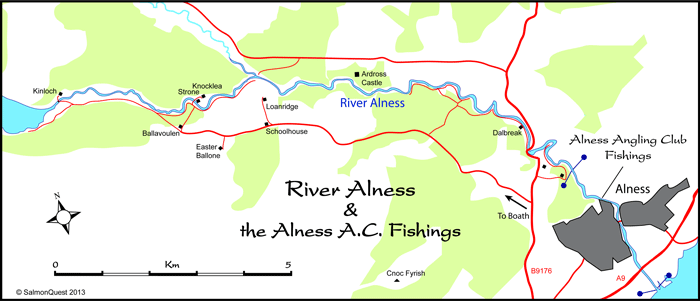 Alness Angling Club control the salmon and sea trout fishing on 2 beats of the River Alness as well as the estuary. There are also arrangements in place for AAC members to fish the Kildermorie beat, but not visitors.
The 5-year average for the club's own waters - Beats 2, 3 and the Estuary beat - is 136 salmon & grilse. The total catch return for 2015 for the club's beats was 139 salmon & grilse of which 100 were returned (72%), and 44 sea trout.

Beat Two - Novar/Crown Water
This beat extends from the lower limit of the Novar Fishings to opposite Cruive Cottage. Access is via a right of way through the Golf Course or from Coulhill by footpath through the wood.

Beat Three - Club Water
This beat extends from Cruive Cottage through to the new A9 road bridge. Fishing is from both banks above the road bridge in Alness, and from the left bank only below the Alness road bridge.

Estuary Beat
This beat extends from the A9 road bridge to the estuary on both banks.

The season for Alness Angling Club's waters is from March 15th to October 15th. The club's conservation policy provides for all fish to be returned before 30th June, and thereafter all fish over 10lbs to be returned. After June 30th, anglers are permitted to keep 2 salmon or grilse per day, and a maximum of 4 per week; once an angler has caught 2 fish (killed or released), that angler must then leave the water. Although the Club Water, downstream of the Averon Bridge, and the Novar waters are fly only, worming is permitted on the Crown and Estuary beats.

PERMITS
Visitor's permits are available from the Card Shop, High Street, Alness. Pricing is very reasonable, however there is no limit to the number of anglers fishing the club's beats at any time, so the beats may get busy when conditions are favourable.
Pricing
Adult River £25.00
Junior River £7.50
Parent and Junior River £28.00
Estuary Beat Adult £7.50
Estuary Beat Junior £3.00
For further information please visit Alness Angling Club's own website: