News
---
An Alness 'Springer'
27 May 2015

Top 4 Small Scottish Salmon Rivers
Scottish Sporting Gazette - Top 4 Small Scottish Salmon Rivers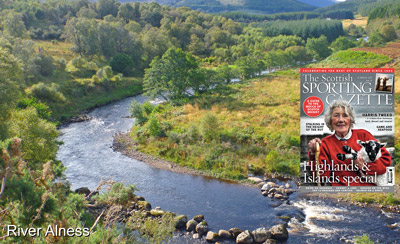 In the latest issue of the Scottish Sporting Gazette, 7 sporting agents were asked to choose 4 small Highland rivers that were as worthy of recognition as the 'Big 4' (Spey, Tay, Tweed & Dee). Of the 17 rivers nominated, several were mentioned twice, but only the Alness, Findhorn and Brora received 3 votes.
Endorsing their status, all 3 of these rivers also made it into Scottish Sporting Gazette's readers' top 4 choices.
The Scottish Sporting Gazette is on sale now.
09 April 2015

Evanton A.C. Recruitment

Evanton Angling Club are keen to recruit new members, and are pleased to announced some special benefits for 2015 membership:

1. In addition to their own salmon fishing on the River Glass (Allt Graad), all angling club members will benefit this season from the option of a day's spring salmon fishing on the Novar beats of the nearby River Alness, to be taken before 30th June.

2. The first 10 new juniors joining the club for the 2015 season will get their 2016 membership for free - i.e. 2 years for the price of 1!

3. So as not to be disadvantaged, juniors members as of the 2014 season will get their 2015 memberships for free.

For membership applications please contact the club's Treasurer Dave Smith on 01349 831019 or 07955 035231.

More information on the club's fishing can be found on our new River Glass page.
10 May 2014

First Alness Salmon of 2014

Congratulations to Duncan Milburn who caught the first salmon of the season from the River Alness, a superb sea-liced 17lb springer caught and returned on the Alness Angling Club beat on 1st May.