Latest Catches
---
We aim to provide monthly fishing reports for the River Alness on this page throughout the main salmon season from July. For latest catch news from the Novar Fishings' beats visit their Facebook page.
If you catch a salmon, sea-trout or quality brown trout on any of the Alness fishings, then e-mail us the details via the enquiries page and we will include it in our catch reports.
The index provides access to monthly and, (up to 2012) weekly, catch reports in the main season going back to July 2009.
Novar - Aug 2014
by Novar Fishings Manager - 10:58 on 02 September 2014
Heavy showers along the coast brought to an end the two month drought, producing a short-lived spate on the 3rd. Although this did little to improve reserves in Loch Morie, it gave a belated kick-start to our season resulting in the first run of grilse.
Alan Shearer was quick to spot the opportunity and made the call (literally) to catch the ferry on the Sunday down from Orkney; his reward 3 fish for 3 days. The following weekend saw the arrival of ex-hurricane Bertha and the level in Loch Morie rose by an incredible 5ft from 2 ft 6in below the weir crest to the same height above it, in less than 24 hours! The subsequent spate on the river peaked at +4.5ft, which was unfishable for a short time, but ultimately helped anglers to land 25 fish for the week, including 3 fish on the 13th from Beat 5 to Mike Holmes from Oban. High water for the following 10 days allowed fish to run through quickly, and the fishing tailed off, suggesting poor numbers of grilse.
The total catch for the month appears to be a little over the 50 mark. Of note however were several 'first salmon', amongst them Gerry Barker, Ben Dean from the U.S.A. and Dion Bell from Zimbabwe, and a number of double-figure fish, including an 18 pounder for David Duncombe-Anderson from Dorset.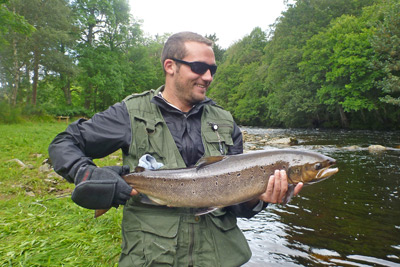 Ben Dean